April 15, 2020
Coronavirus Resources:
COVID-19 Resources for Suburban Staff
JHM Hospital Epidemiology and Infection Control website
NEWS & REMINDERS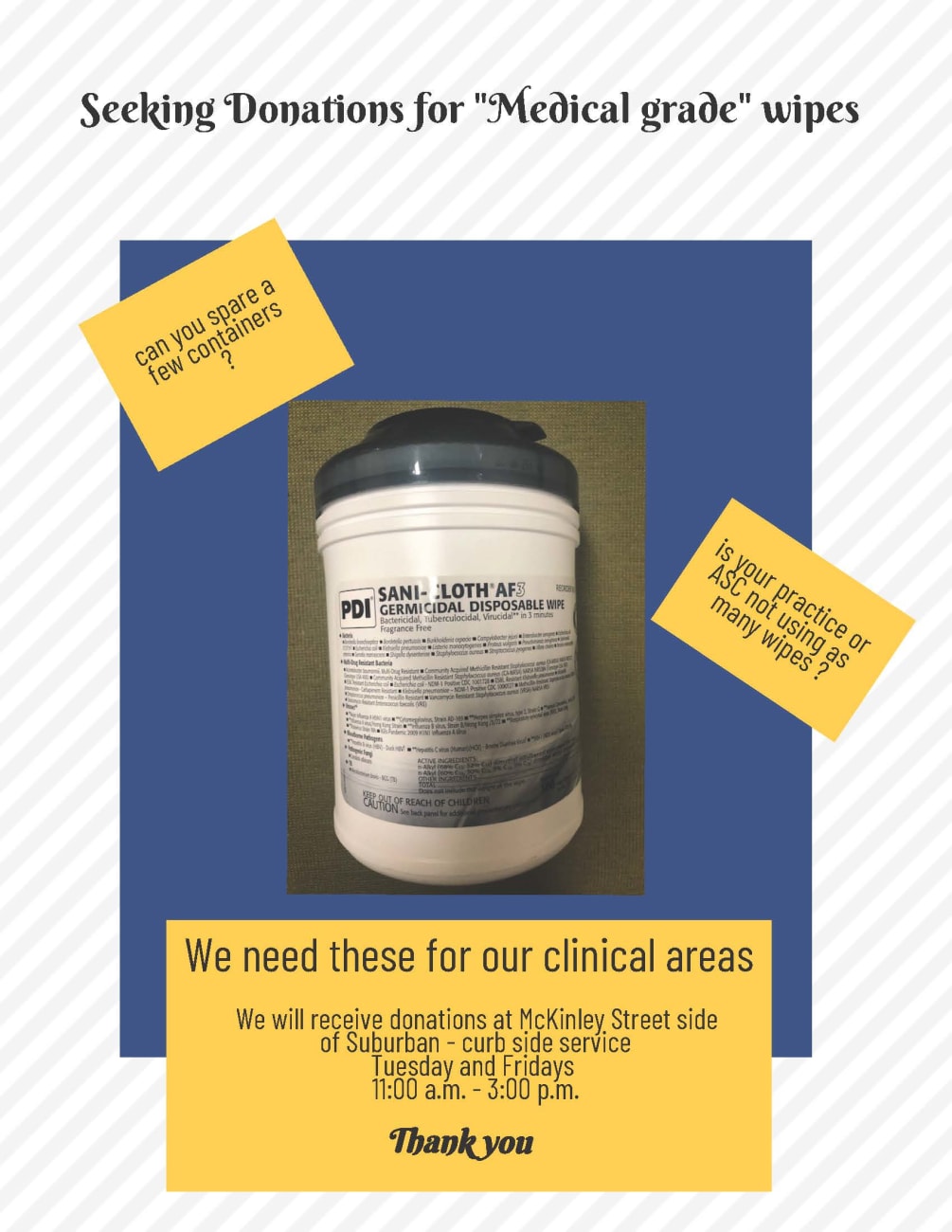 COVID-19 Updates
3200/PCU Change
3200/PCU has been converted to a COVID unit. The 3200 unit is now a mixed acuity unit caring for MS, Stepdown, and ICU-level-of-care COVID patients. All staff must wear an N95 mask when entering the unit. The 3300/Old Cath Recovery Area is open for non-COVID stepdown/ICU patients. This move provides us with additional critical care and MS capacity for our COVID patients.
Suburban Hospital COVID-19 Resource Page
Suburban Hospital has developed a comprehensive intranet resource page that includes information from Human Resources, Infection Prevention and Control and other departments related to the COVID-19 pandemic. Bookmark this page and check back frequently as it will be updated regularly with resources for Suburban providers and staff.
Answers to Commonly Asked Questions About COVID-19 Testing
The JHM Medical Microbiology Laboratory and HEIC continue to get questions regarding testing for COVID-19. Download this memo for answers to commonly asked questions. The microbiology website was updated on Apr. 8, including information on testing platforms, the patient/provider fact sheets for the FDA Emergency Use Authorization (EUA) testing platforms, and COVID-19 testing statistics (including positivity rate and repeat testing statistics).
FIT Testing Requirements
During our ongoing response to the COVID-19 pandemic, it is important to ensure the respiratory protection we use when providing care to patients is properly fitted. Staff who provide patient care in areas that require fit-testing for an N95 or other type of respirator must shave certain types of facial hair or beards that interfere with a proper respirator seal before being fit-tested. Please see this diagram to determine which types of facial hair or beards prevent a respirator from sealing properly. If you have questions about exceptions, including for religious beliefs or practices, please contact your manager or supervisor. Download this memo to learn more.
COVID-19 Call Center
Providers with questions about symptoms, exposure or possible need for coronavirus testing can call the Employee COVID-19 Call Center (ECCC), which operates 24/7, at 443-287-8500 or 833-546-7546. Learn more by watching this video Q&A with Clarence Lam, interim director of Johns Hopkins Occupational Health Services.
Celebrate Patients' Recovery While Respecting Privacy
As JHM providers, we take our patients' health to heart. We commit to giving outstanding care even when we feel overwhelmed. We grieve at times, and we celebrate when our patients recover and return home to their loved ones. Please remember, however, that we must respect our patients' and visitors' privacy at all times. Photographing, videotaping, filming or even creating a sound recording of a patient requires strict compliance with HIPAA laws. Read this memo to learn more.
Submit Your COVID-19 Questions
As we continue to navigate through the COVID-19 pandemic, you can submit COVID-19-related questions to Coronavirus-Questions@jhmi.edu. Questions will be answered by Johns Hopkins Medicine leadership, either privately or in public forums such as virtual town meetings. Before submitting a question, visit the COVID-19 Internal Resource Portal to ensure it has not already been addressed.
Support Resources
Social and physical distancing, and limited meeting capacity can make it more difficult to access spiritual and religious support services. Take a moment to review the JHM religious and cultural toolkit, which includes fact sheets for a number of religious observances. You can also view a list of support services for staff members, including the departments of spiritual care and chaplaincy. In addition, Healthy at Hopkins offers tips for stress relief and tools to help you stick with healthy habits.
NIH Seeking Plasma Donations
The NIH Blood Bank is in urgent need of plasma donations from individuals who have recovered from COVID-19 infection. If you were tested and diagnosed with Coronavirus, have recovered and have not had any symptoms for at least 14 days, you may be eligible to help.
For more information on convalescent plasma donation, contact NIHBloodBank@cc.nih.gov or call 301-496-1048. Learn more about eligibility and blood donation at NIH at https://link.zixcentral.com/u/46fea893/UhzZOM5_6hG771MfXNGfSw?u=https%3A%2F%2Fwww.cc.nih.gov%2Fblooddonor.
Helping Our Patients Stay Connected
We know that the support of families and friends is an essential aspect of the healing process. During COVID-19 and the restrictions on visitors, please encourage patients to stay in touch with their loved ones using Zoom, Skype, Google Hangout and Facetime. Instructions for Zoom are now available in English, Arabic, Chinese, Russian and Spanish.
 Explore and share these "how-to-guides" for each platform with our patients by visiting Suburban's website under Stay Connected. We hope that with these applications, patients will remain connected with those nearest and dearest.
 PPE Resources and Videos
Suburban Hospital Daily COVID_19 Critical Updates
Additional Updates and Resources

Resiliency Center
Suburban's Resiliency Center, open 7 days a week from 11 a.m. – 10 p.m., is located on the 4th floor of the South Building down the hall from HR. The center is open to all staff and is a place to take 15-minute breaks from your duties to de-stress and recharge. Healthy refreshments are on hand to nourish the body and sessions are offered throughout the day to nourish the mind and spirit:
Talk Circles (stress management)
Open Art Studio
Music Relaxation Therapy
Chair Yoga
Spirituality
Brief Individual Sessions
Relaxation Lounge

Suburban's New Main Lobby Now Open
Daily Mindfulness Meditation sessions are also offered Monday – Friday at noon, 1 p.m. and 4 p.m. Each session will last for 15 minutes and social and physical distancing is practiced during these sessions.
After hours, there will be a relaxation lounge open outside of the suite in interview room.




Well Wishes from our Donors
The donations from our community continue to come in, with individuals and groups dropping off critical supplies, coordinating food deliveries and making monetary donations!
Here are just a few of the dozens of notes that accompanied online contributions during a two-day period:
"Suburban Hospital staff are true heroes in this crisis."
"This is our Hospital as we had been treated so well over the years with the best nursing and medical care."
"As a Suburban volunteer, I recognize the dedication and commitment of its staff. All are outstanding professionals!"
"Thank you for all the brave and courageous work you are doing!"
The donation drop-off center in the McKinley Street parking lot is open Tuesdays and Fridays from 11 a.m. to 3 p.m., but many people are reaching out to donate on other days. On Monday, Apr. 6, a group called Chinese Americans Helping Hospitals, which raises money to purchase medical grade supplies, dropped off a dozen boxes packed with surgical masks, N95s, face shields and more (pictured). Leslie Weber holds up handwritten cards that came with a donation of baby monitors, which can be used to facilitate communication between staff and patients.
A huge thank you for this ongoing outpouring of support! And if you sew or know people who do, we are collecting hand-sewn masks for use in non-clinical care areas. Learn more about PPE we are collecting, hand-sewn masks and more.
Food donation offers should be directed to the Office of Patient & Family Experience at 301-896-6034. Please contact Kris Hakanson at Khakans1@jhmi.edu with questions.

Notice on Upcoming CME Activities
In response to COVID-19, JHM has adjusted its approach to CME. All enduring (on demand) activities remain open and available to you through the CME website. For live activities scheduled between now and early May, please check our CME website for updated information on an activity. Click here to subscribe to the CME email list.
MEDICAL STAFF CALENDAR
 Click here for the April 2020 calendar on HopkinsGreaterWashingtonMD.org.
CONTINUING MEDICAL EDUCATION
Johns Hopkins Medicine Continuing Medical Education Series
 May 26 – June 10: Summer Institute in Mental Health Research. To register and learn more, click here.
EPIC TIP OF THE WEEK
Tip Sheets for COVID-19
 The Johns Hopkins Medicine Epic training portal is the designated resource for all COVID-19 tip sheets, which cover topics such as diagnoses, documentation, infectious disease screening, orders, video visits and more. Epic users should only use these approved resources relevant to COVID-19.