NEWS & REMINDERS
In Case You Missed it: Proton Therapy Webinar
Johns Hopkins Proton Therapy Center specialists Curtiland Deville, M.D., and Matthew Ladra, M.D. recently hosted a webinar on "Proton Therapy: Clinical and Technological Advances in Radiation Oncology." Drs. Deville and Ladra have extensive experience in proton therapy research and treatment. In this webinar, they:
Distinguish the basic physics of photon and proton therapy
Describe the rationale and theoretical advantages for proton therapy
Identify the currently available, evidence-based guidelines for proton therapy in various adult and pediatric disease sites
Explore the evolving and future indications of proton therapy
Click here to access the webinar.
Save the Date: Symposium on Humanism and Medicine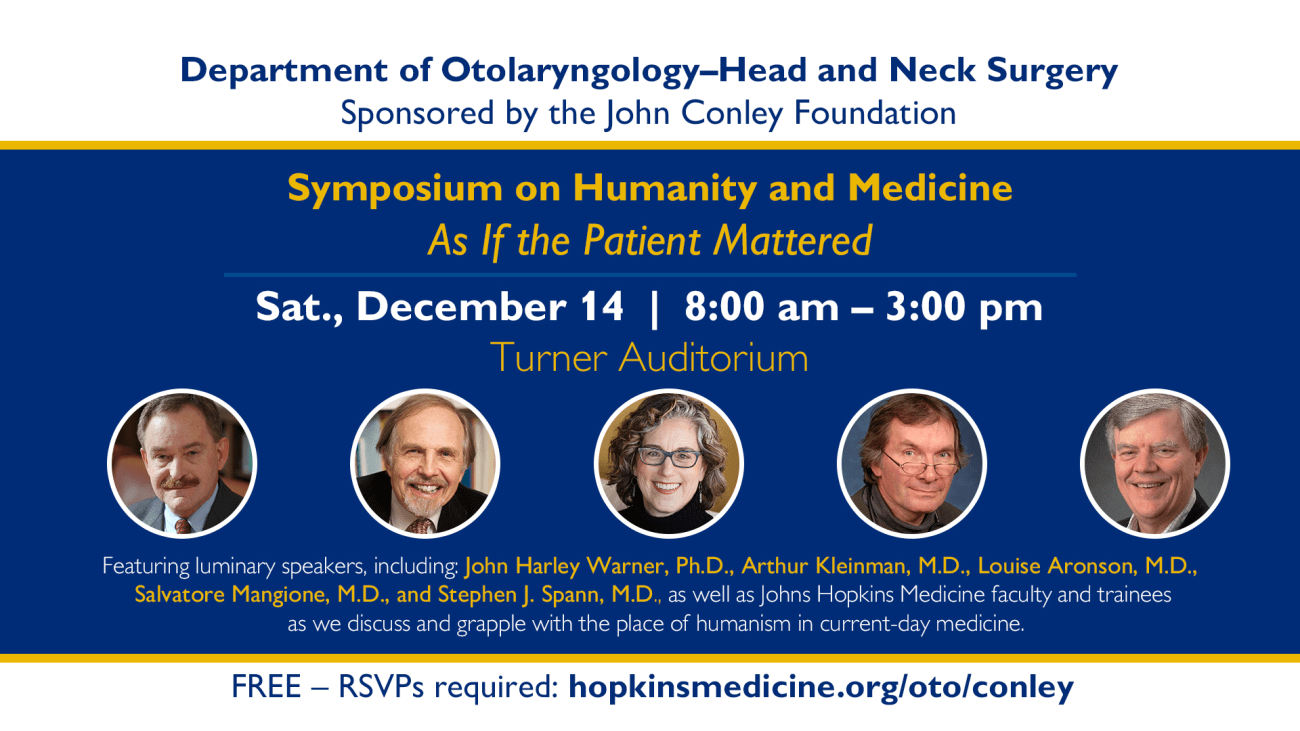 The John Conley Foundation for Ethics and Philosophy in Medicine and the Johns Hopkins University School of Medicine will present the "Symposium on Humanism and Medicine: As if the Patient Mattered," in the Turner Auditorium at the Johns Hopkins Hospital on Saturday, Dec. 14, 2019, from 8 a.m. to 3 p.m. The event is free to attend, and free parking is available in the Washington Street garage.
The symposium will address topics such as burnout and wellness among health care professionals, as well as the erosion of the human relationship between provider and patient. Luminary speakers—including John Harley Warner, Ph.D., Arthur Kleinman, M.D., Louise Aronson, M.D., Salvatore Mangione, M.D., and Stephen J. Spann, M.D—will give presentations on these topics.
For more information and to register, visit hopkinsmedicine.org/oto/conley.
MedChi Educational Series on Physician Dispensing
Are you looking for approved continuing medical education courses related to prescribing and dispensing opioids and other medications? To meet the needs of physicians, the Maryland State Medical Society (MedChi) has developed the Physician Dispensing Educational Series. Click here to access the series and learn more.
Precision Medicine Research Tools You Can Use
Johns Hopkins Medicine has recognized the Precision Medicine Analytics Platform (PMAP) and Secure Analytic Framework Environment computing platform as the best practice environments for research. Visit the PMAP portal to learn about these and other precision medicine resources that are available to all Johns Hopkins Medicine investigators.
MEDICAL STAFF CALENDAR
Click here for the December 2019 calendar on HopkinsGreaterWashingtonMD.org. You can download a PDF copy here.
CONTINUING MEDICAL EDUCATION
Johns Hopkins Medicine Continuing Medical Education Series
Dec. 4: History of Biology and Medicine "The Stranger and Beautiful History of Light"—to access click here. Text CME Code 22736 to 443-541-5052 up to eight hours after the event.
Dec. 5: Surgical Grand Rounds—to access click here.
Dec. 6: Oncology Grand Rounds "Checkpoint Arthritis" and "Checkpoint Pneumonitis"—to access click here. Text CME Code 24109 to 443-541-5052 up to eight hours after the event.
Dec. 6: Medical Grand Rounds—to access click here. 
Dec. 6: Informatics Grand Rounds "The Mining Project: The Johns Hopkins Multimodality Neuromonitoring Interest Group"—to access click here.
RESEARCH CORNER
New Clues About Cancer and Aging
Cancer has long been considered a disease of aging. But new research showing that cell division rates slow down in humans at older ages helps explain why cancer decelerates at the extreme end of life. 
EPIC TIP OF THE WEEK