NEWS & REMINDERS
Visit the SHIP site for COVID-19 related resources and information for Suburban staff.
Additional resources are avaialbe on the JHM Hospital Epidemiology and Infection Control website and the JHM Internal Resource Portal.
COVID-19 Updates

Healthcare Heroes Week
Special activities are taking place in the main lobby of the North Building every day through May 15 to celebrate all of Suburban's Healthcare Heroes. Items that we are giving away include water and soft drinks, hand-sewn masks, candy and other surprises. These items were all donated and are made possible through the generosity of our community. Please take a moment to pause and enjoy these treats!
We definitely have something to celebrate, as 142 patients with COVID-19 were discharged in April because of your hard work and dedication. When you hear applause and clapping on the overhead PA, that's because a patient with COVID-19 is ready for discharge! Providers can request these applause by contacting the Call Center.
PPE Updates
Reusable gowns were rolled out in the ICU on Monday, May 11. Please speak with the nurse manager if you work in the ICU and need a gown.
If you wear your N95 mask primarily during most of three shifts or a strap breaks, you may trade it in for a new one. Your N95 mask may also be replaced if it has become soiled or moist. Please speak with the nurse manager or charge nurse if you need to replace your mask. If you use a Draeger, please avoid getting excess solution on the filters when cleaning by squeezing a portion of the excess fluid in the trash prior to disinfecting. 
Safety Officers continue to round COVID units to assist with donning and doffing procedures of PPE, check negative pressure, and the use of anterooms. They can also help with a fit test. Security in the North Building main lobby will replace worn or damaged face shields, industrial masks and cloth sewn masks as well as refill hand sanitizer bottles.
Please remember that all staff must wear a mask and show their badge upon entering the hospital. This practice had been mandated by Maryland. Your badge must also be worn throughout your shift and shown to Security if asked. Thank you for your corporation and understanding.
Take Advantage of Suburban's Resiliency Center
Suburban's Resiliency Center was opened over a month ago as a stress management center…a place for all staff to unwind, relax and decompress. 
Sessions offered throughout the day include:
Talk Circles (stress management)
Open Art Studio
Music Relaxation Therapy
Chair Yoga
Spirituality
Mindfulness Meditation Sessions (Monday – Friday at noon, 1 p.m. and 4 p.m.)
Brief Individual Sessions
Relaxation Lounge
The Resiliency Center is located on the 4th floor of the South Building and is open 7 days a week from 11 a.m. to 10 p.m. After hours, there is a relaxation lounge open outside of the suite in Interview room #3.
Watch this video featuring Susan Webb, L.C.S.W.-C., director of Suburban's Behavioral Health Emergency and Outpatient Services, to learn more.
Continued Support From Our Community
Suburban Hospital is extremely grateful to the more than 300 donors contributing to our emergency response fund. Local community members and business also continue to donate much-needed supplies—including PPE—used by staff, patients and any permitted visitors.
**Please note that we are still in need of medical grade disinfectant wipes for our clinical areas. If your practice or ASC has containers you can spare, please consider donating them to Suburban. We are accepting donations at the McKinley Street side of the hospital on Tuesday and Fridays from 11:00 a.m. - 2:00 p.m.**
Additionally, food donation offers should be directed to the Office of Patient & Family Experience at 301-896-6034. Please contact Kris Hakanson at Khakans1@jhmi.edu with questions.
Kudos: 3600, CDU, 3700 and the Entire Suburban Team
A patient sent the above kudos and drawing to the 6400 team.
Additionally, a patient and his wife were very grateful for the wonderful care he received at Suburban and sent this letter to the Office of Patient Experience. The couple recently delivered meals to the CDU and 3700 unit and it was all they could do to hold back tears of gratitude to our staff for the care they provided.
"Upon entering the emergency room area, I was met by your incredibly caring, empathetic and professional staff. I was next in very capable hands on the 6th floor. The nurses' professionalism was exemplary, and I could tell they truly cared and worked diligently to make me better. Even behind the PPE, masks and shields, they exuded true warmth and caring. I believe they were as happy to learn as I was that I did not have COVID.
I was quickly moved to the 3rd floor in the new building. Again, the care and professionalism of this group is to be commended. They tended to my needs and administered meds as directed, but more importantly it was their sincere concerned care for my well-being that was impressive.
Everyone on the entire team at your hospital, including the med techs and physicians, gave me the most wonderful care. While I am not in a hurry for a return visit, I want everyone to know that I consider them the bravest and most courageous people I have ever known."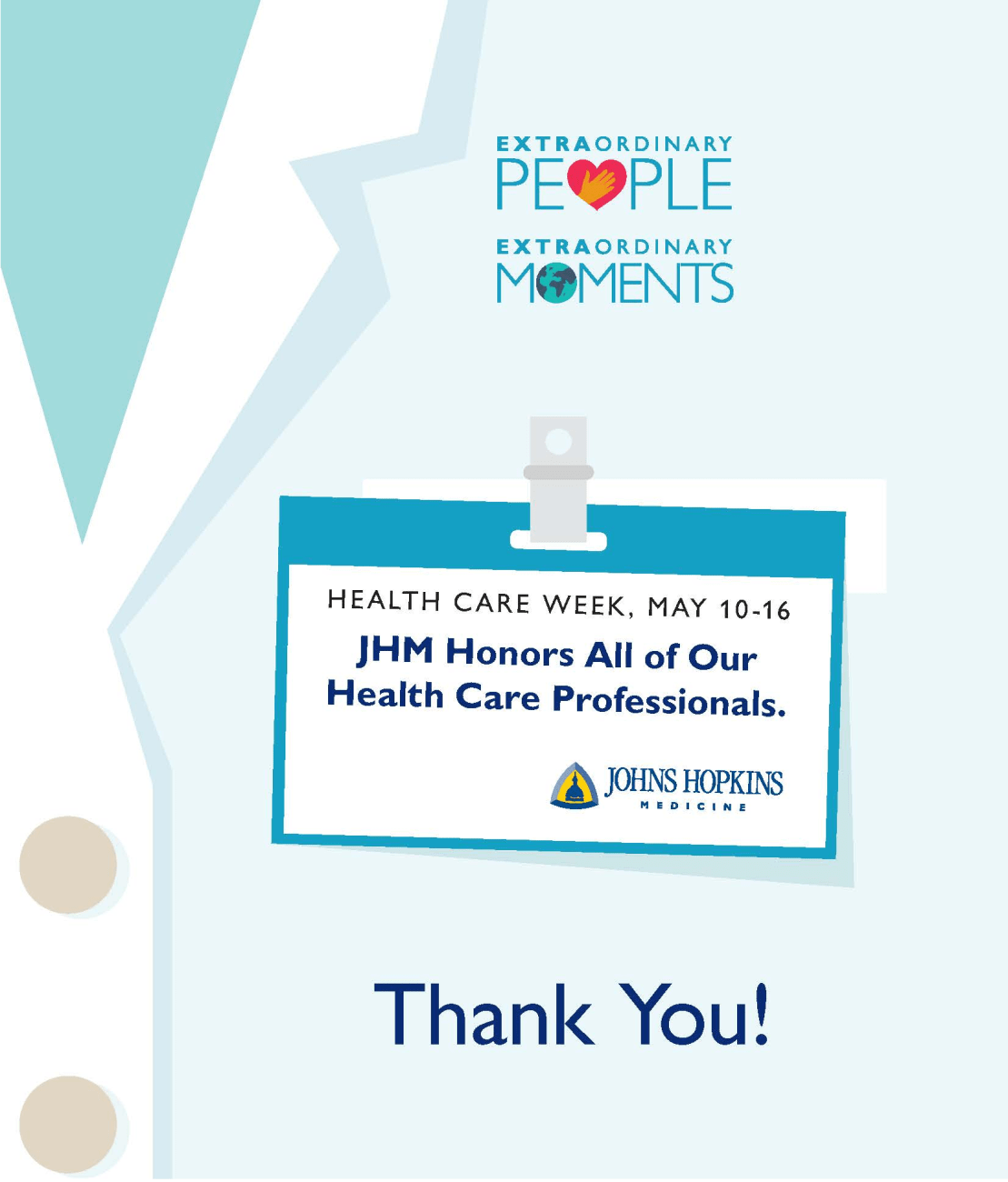 JHM Celebrates Health Care Week
From May 10-16, many health care organizations across the country are observing National Hospital Week. At JHM and Suburban, we want to ensure that we recognize the "extraordinary" dedicated of all our health care professionals and honor their commitment to caring four our patients and one another. For this reason, we are celebrating Health Care Week and invite you to take a moment to visit the JHM Appreciation Board, where you can read inspiring stories about your colleagues and post your own reflections of gratitude. If you have an inspirational health care story or photo to share, please submit it here. Read these memos for Suburban President Jacky Schultz and JHM leaders Dr. Rothman and Kevin Sowers to learn more.
Mihail Zilbermint, M.D., Elected as Fellow of the American College of Endocrinology
Congratulations to Mihail Zilbermint, M.D., Chief of Endocrinology, Diabetes and Metabolism at Suburban Hospital, on becoming the newest member of the Fellows of the American College of Endocrinology!
Mindfulness and Breathwork Workshop
On Wednesday, May 13 from 6:30 to 8:00 p.m., Suburban hospital will offer a workshop titled "Healing for the Whole Person: How Mindfulness and Breathwork Can Ease Pain and Lift the Spirit." The workshop is free on Zoom and registration is required.
During the workshop, Lauren Chelec Cafritz, author of Breath LOVE, will deliver an experiential approach to convey how consciously connecting to one's breath brings not just physical relief, but peace, personal transformation and joy. Neda Gould, Ph.D, associate director of Johns Hopkins Bayview Medical Center Anxiety Disorders Clinic, will describe the research findings supporting mindfulness meditation for health and outline how we can build a foundation for a personal mindfulness practice. 
This workshop is for anyone open to increasing their clarity, self-love and emotional mastery for improved physical, mental and spiritual health.
Zoom Upgrade
Zoom is upgrading to version 5.0.  Hospital devices will download this upgrade automatically, and some devices have already been updated. For users that have Zoom on a personal device, you will need to take this upgrade by May 30 or Zoom will not work on your device. 
MyChart Bedside App Aids Patients with Communication Needs
The SmallTalk Intensive Care app is now available on MyChart Bedside tablets for Johns Hopkins patients in units where these tablets are deployed. The app helps patients who are unable to speak or have difficulty speaking due to, for example, aphasia, intubation, a tracheotomy tube or shortness of breath. Read more.
Corridor Closure
The corridor on the lower level leading from the Auditorium to the public bathrooms and CRs 7 and 8 will be closed for approximately three weeks to complete construction on the lower level. If public restrooms are needed, please use the public restrooms on the 2nd floor next to the Meditation Room. We apologize for the inconvenience.
Notice on Upcoming CME Activities 
In response to COVID-19, JHM has adjusted its approach to CME. All enduring (on demand) activities remain open and available to you through the CME website. For live activities scheduled between now and early May, please check our CME website for updated information on an activity. Click here to subscribe to the CME email list.
MEDICAL STAFF CALENDAR 
Click here for the May 2020 calendar on HopkinsGreaterWashingtonMD.org.
CONTINUING MEDICAL EDUCATION 
Johns Hopkins Medicine Continuing Medical Education Series 
May 13: Joint Oncology Translational Research Conference and Pharmacology Grand Rounds "From Bench to Bedside: Targeting Solute Carriers to Ameliorate Chemotherapy-Induced Peripheral Neuropathy"—to be streamed online via Zoom (Meeting ID: 978 4116 9143; Password: 019459). Text CME Code 22759 to 443-541-5052 up to eight hours after the event.
May 14: Surgical Grand Rounds "COVID PANDEMIC 2020: How Reptiles, the SR-71, 9/11 and Bull Marray Can Make Us Better Surgeons"—to be streamed online via Zoom (Meeting ID: 458 932 0520; Password: 191452). Text CME Code 21871 to 443-541-5052 up to eight hours after the event.
May 15: Oncology Grand Rounds "The First 10 Years of Modern Immunotherapy for Melanoma: Data, Anecdotes, and Future Challenges"—to be streamed online via Zoom (Meeting ID: 949 7910 4475; Password: 025887).
May 26 – June 10: Summer Institute in Mental Health Research. To register and learn more, click here.
RESEARCH CORNER 
Suburban is currently enrolling participants in a donor study to determine qualification for convalescent plasma collection. The goal of the study is to qualify individuals for donation of convalescent plasma for the prevention and treatment of COVID-19. At Suburban, the qualification visit involves a participant blood draw. If the participant qualifies, he or she will be notified by the JH team to schedule a visit at an approved center to donate plasma. Download this handout to learn more. 
EPIC TIP OF THE WEEK 
Navigate a Patient's Chart Using Storyboard COVID-19 Resources