NEWS & REMINDERS
Visit the SHIP site for COVID-19 related resources and information for Suburban staff.
Additional resources are avaialbe on the JHM Hospital Epidemiology and Infection Control website and the JHM Internal Resource Portal.

COVID-19 Updates
Medical Imaging Exam Update
To best meet our patients' imaging needs, Johns Hopkins Medical Imaging has expanded its offering of some procedures. The Columbia and White Marsh locations offer additional exams as well as MRIs. Diagnostic breast imaging and breast procedures will only be available at Green Spring Station and in Bethesda. Walk-in exams are not available at any location until further notice. Read more.
Self-Monitoring Reminder
Please download and continue to use this self-monitoring log. You can also download the JHM emocha Health self-monitoring app from the app store and follow the instructions sent via text message to enable remote clinical monitoring and engagement. The Employee COVID-19 Call Center (ECCC) is open from 7 a.m. to 7 p.m. seven days a week and can be reached at 443-287-8600 or 833-546-7546 to answer questions and schedule testing at Suburban's drive-through site.
PPE Reminders
Staff can get a new N95 mask if your current one is damaged, does not fit well, is soiled or moist, or has been worn for more than 3 shifts. Contact your nursing supervisor for a replacement mask. See these FAQ for additional guidance on when to replace your N95 respirator and download this handout for tips on protecting your skin under N95 and elastomeric respirators. Staff are also able to get a new face shield if the one you have is damaged or cracked. Security in the North Building Main Lobby can give you a new one and also refill hand sanitizer bottles.
Virtual Town Meeting
In the latest COVID-19 Virtual Town Meeting, Kevin Sowers, president of the Johns Hopkins Health System and executive vice president of Johns Hopkins Medicine, interviews Dr. Allen Kachalia, senior vice president for safety and quality. Dr. Kachalia talks about his own experience of having COVID-19 from a physician's perspective. He also shares how his symptoms developed, and he provides insight into caring for the needs of COVID-19 patients. 
If you have any questions or comments, please send them to Coronavirus-Questions@jhmi.edu.

Mahsa Motevalli, CRNP, and Robert Buber, M.D. Published in the Journal of the Endocrine Society
Congratulations to Suburban Hospitalist Mahsa Motevalli, CRNP, and Robert Buber, M.D. on publishing "Severe Hypercalcemia Following Hip Joint Implantation of Stimulan® Calcium Sulfate" in the Journal of the Endocrine Society.

Take Advantage of Suburban's Resiliency Center
Suburban's Resiliency Center is a place for all staff to unwind, relax and decompress. Sessions offered throughout the day include:
Talk Circles (stress management)
Open Art Studio
Music Relaxation Therapy
Chair Yoga
Spirituality
Mindfulness Meditation Sessions (Monday – Friday at noon, 1 p.m. and 4 p.m.)
Brief Individual Sessions
Relaxation Lounge
The Resiliency Center is located on the 4th floor of the South Building and is open 7 days a week from 11 a.m.—10 p.m. After hours, there is a relaxation lounge open outside of the suite in Interview room #3.
Community Support During Healthcare Week
A generous donor gave Suburban 600 arts and craft packets, which we handed out to staff during Healthcare Week (May 10-16). The donor purchased these packets from another nonprofit and gifted them to Suburban and many other local hospitals for staff to give to their children, grandchildren or to use themselves for a little art therapy.
Donors, local community members and business also continue to contribute to the emergency response fund and donate much-needed supplies to assist in our efforts during the current pandemic. Volunteers from Masks for America donated 600 N95 masks to Suburban. Pictured (left to right): Chloe Bauermaster, Leslie Ford Weber, Kelly Heller
**Please note that we are still in need of medical grade disinfectant wipes for our clinical areas. If your practice or ASC has containers you can spare, please consider donating them to Suburban. We are accepting donations at the McKinley Street side of the hospital on Tuesdays from 11 a.m. to 2 p.m.**
Additionally, food donation offers should be directed to the Office of Patient & Family Experience at 301-896-6034. Please contact Kris Hakanson at Khakans1@jhmi.edu with questions.
JHM Announcements
Please see the latest announcement from JHM on Scott Berkowitz, M.D., M.B.A., being named Chief Population Health Officer and VP of Population Health, as well as an update on SARS-CoV-2 testing and STAT priority.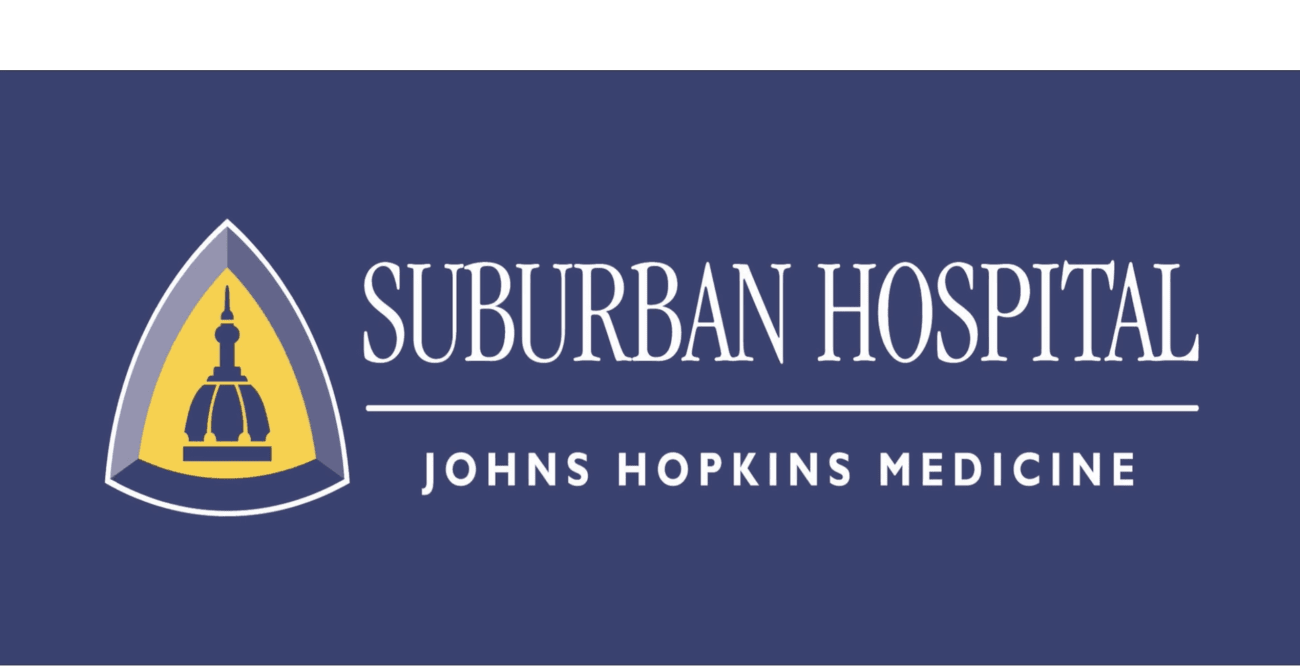 Lobby Use
We are all very proud of the beautiful lobby space provided with the North Building addition. The main lobby is not designed or intended for staff to eat meals and also does not provide the same social distancing controls as the Café. The lobby furniture is not cleaned as frequently as the Café tables and chairs; as a result, eating leaves the lobby furniture surfaces dirty and sticky. Please refrain from eating meals in the main lobby or concourse as we look at returning it back to a welcome space sometime in the summer. 
Corridor Closure
The corridor on the lower level leading from the Auditorium to the public bathrooms and CRs 7 and 8 will be closed for approximately one more week to complete construction on the lower level. Please use the public restrooms on the 2nd floor next to the Meditation Room. We apologize for the inconvenience.
MEDICAL STAFF CALENDAR 
Click here for the May 2020 calendar on HopkinsGreaterWashingtonMD.org.
CONTINUING MEDICAL EDUCATION 
Johns Hopkins Medicine Continuing Medical Education Series 
May 27: Oncology Translational Research Conference "Clonal Hematopoiesis: Biology and Clinical Consequences"—to be streamed online via Zoom (Meeting ID 947 6464 4905; Password: 052215). Text CME Code 22761 to 443-541-5052 up to eight hours after the event.
EPIC TIPS OF THE WEEK 
Viewing an Ordered Blood Product's Status