NEWS & REMINDERS
Happy Thanksgiving From Suburban!
Suburban Hospital would like to wish you and your family a Happy Thanksgiving. As a reminder, the Executive offices will be closed on Friday, November 29.
From Heart Attack to Boston Marathon, One Step at a Time
Suburban's magazine is going 100% digital to allow us to reach more households and provide a mobile-first format to adapt to changes in how consumers get news and information!
Look for our inaugural edition of this new digital publication in your email box in December featuring the article, From Heart Attack to Boston Marathon, One Step at a Time, highlighting patient Rodney Vieira's journey from a heart attack at age 41 that brought him into Suburban's ED through his recovery in Cardiac Rehab. Now, 10 years later, he ran the Boston Marathon thanks to Nancy Davenport, M.D., Gregory Kumkumian, M.D. and the entire Suburban team.
Suburban Receives Health Quality Innovators Award
Health Quality Innovators (HQI)—a Medicare Quality Innovation Network-Quality Improvement Organization—has recognized Suburban Hospital as a 2019 Health Quality Innovator of the Year for patient-centered care. This award recognizes organizations that have made health care more responsive to the needs of patients, families and caregivers through respect, communication and engagement.
Suburban received this award for our patient-centered focus. Suburban initiated the Home Health Collaborative Group in January 2018. The collaborative comprises 10 home health care agencies that participate in monthly meetings and work collectively to develop creative solutions to ensure our patients receive timely service in the community, ultimately improving patient outcomes and quality of life.
Interpretation and Translation Services Reminder
The exchange of information between patients and providers is an essential element for quality patient- and family-centered care, and the use of interpretation services is required for all medical discussions at Suburban Hospital when English is not a patient's preferred language. Please see the attached FAQ for guidelines on documenting the use of interpretation and translation services.
As part of JHM's effort to enhance translation services, we have instituted the Qualified Bilingual Staff Program. This program educates bilingual staff on the legal and ethical requirements for communicating directly with patients in a language other than English. Download this handout to learn more about the program and how to apply.
Save the Date: Symposium on Humanism and Medicine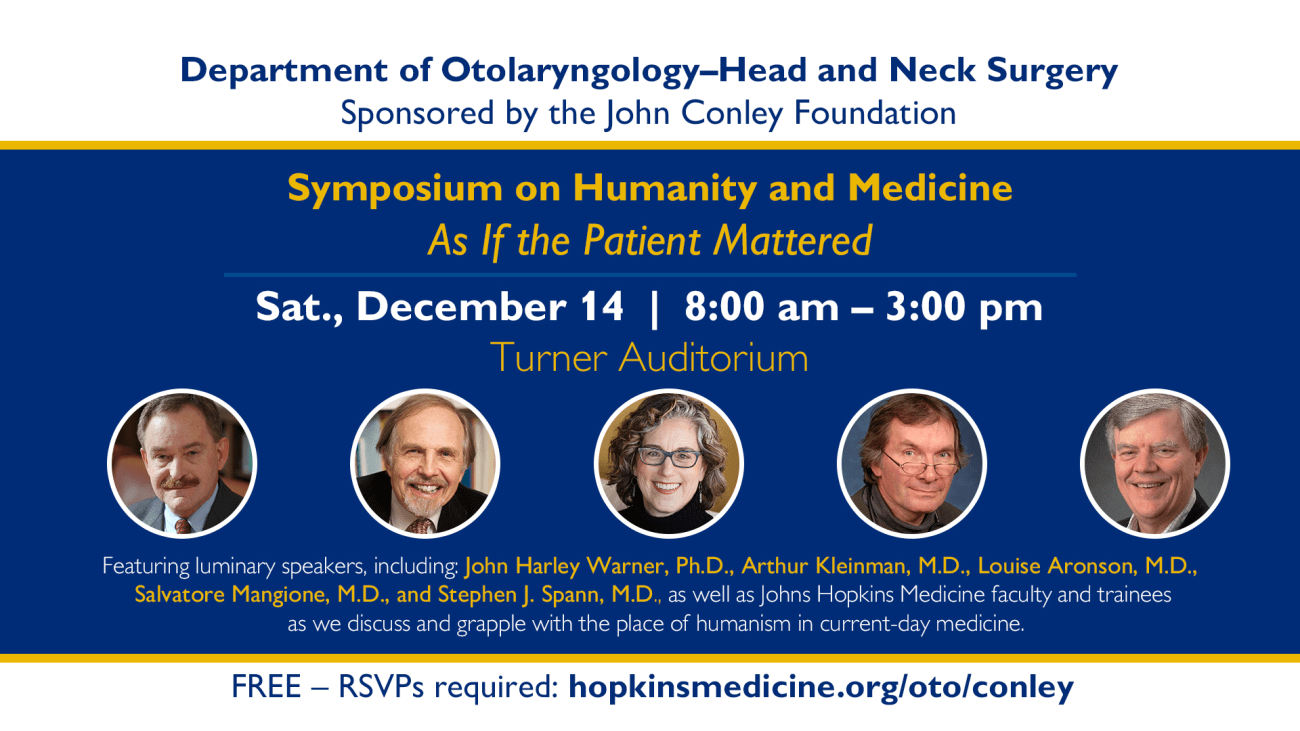 The John Conley Foundation for Ethics and Philosophy in Medicine and the Johns Hopkins University School of Medicine will to present the "Symposium on Humanism and Medicine: As if the Patient Mattered," in the Turner Auditorium at The Johns Hopkins Hospital on Saturday, Dec. 14, 2019, from 8 a.m. to 3 p.m. The event is free to attend, and free parking is available in the Washington Street garage.
The symposium will address topics such as burnout and wellness among health care professionals, as well as the erosion of the human relationship between provider and patient. Luminary speakers—including John Harley Warner, Ph.D., Arthur Kleinman, M.D., Louise Aronson, M.D., Salvatore Mangione, M.D., and Stephen J. Spann, M.D—will give presentations on these topics.
For more information and to register, visit hopkinsmedicine.org/oto/conley.
Upcoming CME Activities
The Johns Hopkins CloudCME web portal allows providers to register for upcoming courses, review calendars and identify activities that will help improve their knowledge, skills, attitudes, behaviors, and clinical outcomes for patients. Visit the site learn more about upcoming opportunities. Click here to subscribe to the CME email list.
MEDICAL STAFF CALENDAR
Click here for the November 2019 calendar on HopkinsGreaterWashingtonMD.org. You can download a PDF copy here. The December Calendar can be found here. 
CONTINUING MEDICAL EDUCATION
Johns Hopkins Medicine Continuing Medical Education Series
There are no grand rounds this week due to the holiday. Have a happy Thanksgiving!
RESEARCH CORNER
HIV and Sudden Cardiac Death
Recent research observed more disruptions of electrical "resetting" between heartbeats in people with HIV infections, which may contribute to a greater risk of sudden cardiac death.
EPIC TIP OF THE WEEK